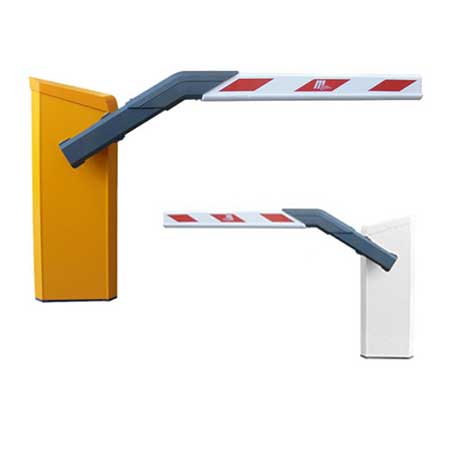 MHTM™ MicroDrive offers 75% less power consumption to comparable products. Together with 99% recyclable materials, MicroDrive is our contribution to a greener environment. The newly designed barrier boom VarioBoom improves visibility and thus decreases the risk of damages to people and materials. Passage is possible at an opening angle of 35°, allowing more vehicles to pass during peak times.
Our barriers have been developed, built and tested according to the latest standards and directives. MHTM™ MicroDrive corresponds to the requirements of the demanding specifications of UL, the certification authority for product safety in the United States, and applicable European directives.
This white, secure control unit with integrated detectors has adjustable closing times. Package includes barrier, control unit, integrated 2-channel detector module, and VarioBoom with Protective Foam Edge.
MHTM MicroDrive Features
Innovative drive technology
High energy efficiency
High torque motor
24V DC operating voltage
Zero maintenance motor
Motor, motor control, and gearbox in one compact unit
10m cycle warranty
Drive Unit Features
Robust case aluminum frame
Motor and drive unit are separate
In case of repair, no need to change the complete drive unit
Spring counter-balanced allowing for multiple arm lengths and auto-open functionality
Dual self lubricating roller bearings used on all linkages
Easy change from right hand to left hand
Maintence-free
No rubber end stops
100% duty cycle in a compact design
Protected lever system
Power Supply Features
Multi-voltage 100-240V
One power supply for all gates
Barrier Controller Features
Placed directly under top cover
Easy access from all sides
24V DC controller
Easy operation
Very user-friendly
6 Languages
8 Digital inputs
6 Relay outputs
4 Digital outputs
Service switch
Fixed I/O
Housing Features
Modular design
Attractive IP 54 aluminum housing
Corrosion protection
Stainless steel base with simple assembly
Top frame doubles as mounting plate for controller
Simple replacement of damaged parts