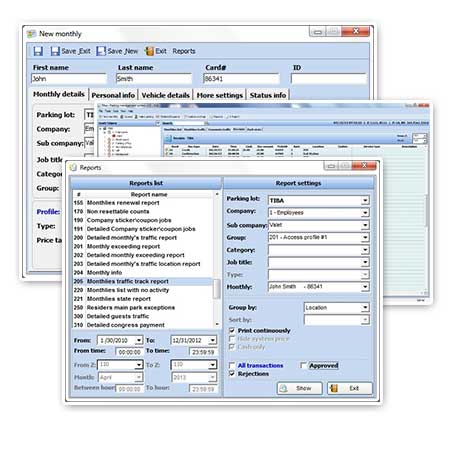 Picture Gallery
The simplicity of the TIBA parking system continues through this final stage in the parking process. The SW-30 allows effortless exiting for your customers, while still maintaining the security of your system.
Those who have settled their parking fee using the APS-30 pay station can simply insert their bar-coded ticket into the automatic ticket reader and the gate will open. For those who have not paid yet, we offer a "pay at exit" feature utilizing the magnetic card reader to pay via credit card. The system also recognizes validations by stickers as well as vouchers. These elements allow you to collect fees at the exit or when the grace time from payment at the Automatic Pay System has been exceeded.
Tickets are swallowed into the machine for auditing purposes. However, if patrons forgot to take a receipt at the APS-30, they have the option of receiving one via the built-in receipt printer.
The Exit Verifier also includes a built in-intercom system and a proximity card reader which permits monthly customers to exit with a simple wave of their card. As most other TIBA devices, the SW-30 housing is constructed of rugged stainless steel.
The interior device is mounted on sturdy sliding tracks which glide open with just a pull allowing for easy maintenance and retrieval of the tickets.
Features:
Monitoring and Control: – With Smartpark, operators can monitor and control all aspects of their facilities including occupancy, system alarms, VMS signs, equipment status, and lane traffic. They can also open/close barrier gates, restart lane equipment, or even send a new fee to a pay station. Additionally key facility personnel can receive email alerts and/or reports for virtually any system activity.
Revenue Management: – Smartpark is your turn-key facility management solution including real time transactions, ticket tracking, occupancy counts, alarm monitoring, parking rate programming, coupons, validations, zone counts, sign controls and much more. From a single dashboard monitor system alarms, revenues transactions, equipment status, cardholder traffic, open tickets and facility occupancy. See it all locally, on the web and from your smartphone. Validation and coupon management and production is made simple cost effective with an integrated module that comes standard with Smartpark.
Validation Solutions: – TIBA Smartpark offers a wide range of intelligent validation solutions. In Smartpark, merchant accounts and sub-accounts are created in the database. An unlimited amount of merchant accounts can be created in Smartpark. Additionally the validation types are created, i.e. one-hour free, $1 discount. The validation types are created once and are available and can be utilized by any merchant account. After the validation profi les are created they are available for all applications including; barcode stickers, coupons (chaser tickets), QR codes, online desktop units, self-service units, off-line desktop units and for web client accounts.
Access Control: – Parking access today requires a wide range of controls and billing options that provide owners and facility managers the fl exible solutions to bring in new business. Smartpark is your enterprise parking access control solution. Whether it's a single, monthly contract account or an entire company, Smartpark provides intuitive access control management. Take advantage of the latest and greatest credential technologies such as LPR, AVI, QR and chip card, the choice is yours. Smartpark supports cardholder payments and value card re-charge at pay-on-foot stations in our standard product.
Standard Features: – Debit/Value Card • Tenant management • Shared accounts • Automatic-activation • Corporate accounts
Reporting: – Smartpark provides a full complement of reports for all aspects of your facility including transient, monthly, valet, hotel, pre-paid and event activity. TIBA Smartpark provides real-time revenue reporting on a local and enterprise scale. Additionally Smartpark tracks hourly occupancy, entry/exit statistics, transient transactions and contract activity. All reports can be exported to excel, word, PDF, text files and other formats.
Standard Features:
 Monitoring and Control
 Revenue Management
 Validation Solutions
 Access Control
 Reporting
Additional Software Modules:
 Valet Parking
 Hotel Guest Solutions
 LPR Systems
 Web Reservations
 Loyalty Programs
 Pay-By-Phone