We recently completed Phase 1 of our installation of a TIBA parking system at the Novotel Hotel in Mississauga.
This is a barcode-ticket based system that includes a unique integration for hotel guest parking.
Phase 1
Upon check-in at the hotel; the Front Desk staff converts (with the help of a nifty barcode scanner) the guest's transient parking ticket into an in-out pass that is valid for the length of the guest's stay at the hotel. The guest simply presents the ticket at the entry terminal to gain access and at the exit terminal to leave.
All other transient parkers have the option of paying at the Pay Station in the lobby with cash / credit card, or at the exit terminal with credit card.
Phase 2
Our TIBA parking system integrates with most hotel management systems including Galaxy and Opera (the system of choice at the Novotel Hotel). Our integration allows for guests at the hotel to utilize their room-key cards (mag-stripe or proximity / RFID) to gain access to and exit the parking facility.
This adds a level of convenience to hotel guests since they only need to hold on to their room key and no longer have to worry about losing a special parking access in-out pass.
The Hotel's Front Desk staff has the added convenience of one unified system. All parking privileges are set from the Opera hotel screen by the front desk staff at the time of check-in. There is no need for staff to flip between multiple systems during check-in.
In the near future, the Novotel Hotel will be upgrading their room keys from mag-stripe to proximity cards. Phase 2 will be implemented at that time.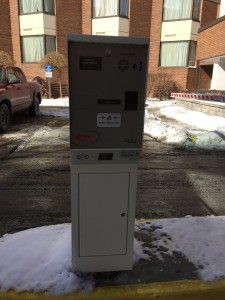 MP-30 Entry Terminal at the Novotel Hotel
Social Share